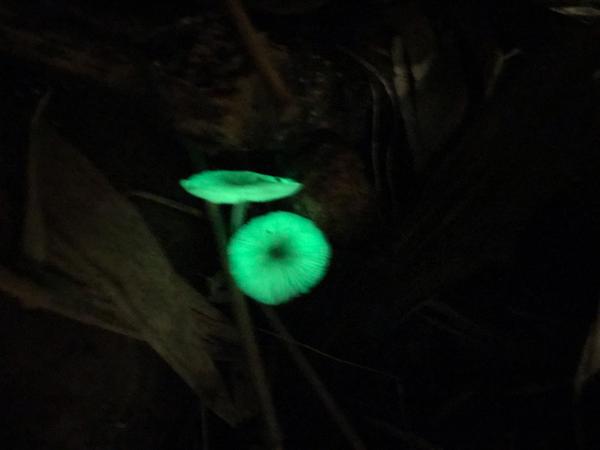 Bioluminescence mushroom Mycena chlorophos
Created with Mushrooms PRO
---
7 Likes
Haili , Britse , ManuM , YEY , wooqchhyuk , Doody , Riojano
---
6 Comments
---
Doody Nov. 16, 2020, 12:41 a.m.
Wow! Great shot 👍
---
Doody Nov. 16, 2020, 12:58 a.m.
Are you sure it's Mycena interrupta? Just reading up on it there and online blurb says it is not bioluminescent (doesn't mean that's true, can't believe everything one reads online!) I've no books on mushrooms in your part of the world. Guam sounds amazing, what a place to go mushroom hunting. Would love to see a day time shot of it if you can find it again!
---
SuMazik Nov. 16, 2020, 6:41 a.m.
Hi Doody! Thank you for your comment. I will look into it one more time to get the right name. I can ask my professor. I scanned the mushroom picture with a "Picture mushroom" app. We were mushroom hunting with my biologist college friends 2 years ago. I was so excited that I forgot the name... if you have any other idea what it can be pls let me know... I would be very happy. Take care and will be nice to hear from you! Nice regards Susanna
---
SuMazik Nov. 16, 2020, 7:37 a.m.
Doody! The closest I could find: Mycena illuminans /Pacific Islands Yaaay 🙃
---
SuMazik Nov. 17, 2020, 9:32 a.m.
Mycena chlopopus
---
SuMazik Nov. 18, 2020, 7:37 p.m.
Mycena chlorophos!!!
---